LJC Hypnotherapy supports the US Veteran Kennels, a not for profit, veteran owned facility that adopts dogs from shelters and trains them to be service dogs for veterans.  These dogs enable our US Veterans to live a quality life.  LJC Hypnotherapy will donate 20% of all Past Life Regression earnings to support the US Veteran Kennels.  Visit USKennelsinc.org for more information. Please save a pet and help a vet.
Modern Mindful Hypnotherapy
CONFIDENTIAL
The client / hypnotherapist relationship is very important and all information is confidential. Your information will never be shared or talked about with anyone. 
Lenora Curtis has experienced first-hand the transformative power of hypnosis.
She used it to manifest her dream home and to facilitate healing and manage pain from multiple surgeries. She is passionate about using hypnotherapy to help others and has made the study of hypnosis a major focus in her life.
She is a Certified Hypnotherapist, Advanced Handwriting Analyst, Reiki Master and Certified Brain Health Coach. She has done extensive coursework in the Law of Attraction and enjoys teaching others about the Mental Bank.
As a graduate of the Hypnosis Motivation Institute (HMI) Clinical Hypnotherapy Program, Lenora logged over 2160 hours of instruction and clinical client sessions, which is over 3 times the required hours.
Additionally, she is a Professional Member of the American Hypnosis Association, the Hypnotherapists Union Local 472, and the American Alliance of Hypnotists.
Lenora combines Hypnosis, Neuro-Linguistic Programming and Therapeutic Imagery to teach her clients how to tap into their inner resources to activate their natural ability to heal mentally, emotionally, physically, and spiritually. Using these tools and others, she guides her clients to become the master of their own thoughts and reclaim their personal power.
Because of her own experience with chronic back and foot pain, Lenora also specializes in chronic pain management for those who want to manage pain without the use of potentially harmful and/or addictive substances. She knows from experience that hypnosis works to relieve pain, because without it, she would not be able to lead a quality life.
Lenora invites you to join her on a journey of exploration into the natural healing properties of your mind, body, and spirit. Whether it is the achievement of a personal improvement goal, the urgent need for pain relief, or the quest for a more fulfilling life path, the therapeutic use of Hypnosis, NLP, and Guided Imagery offers a powerful combination of resources to help you comfortably and efficiently achieve your goals. Contact her today to begin your personal transformation.
Modern, Personal Hypnotherapy designed specifically for your needs.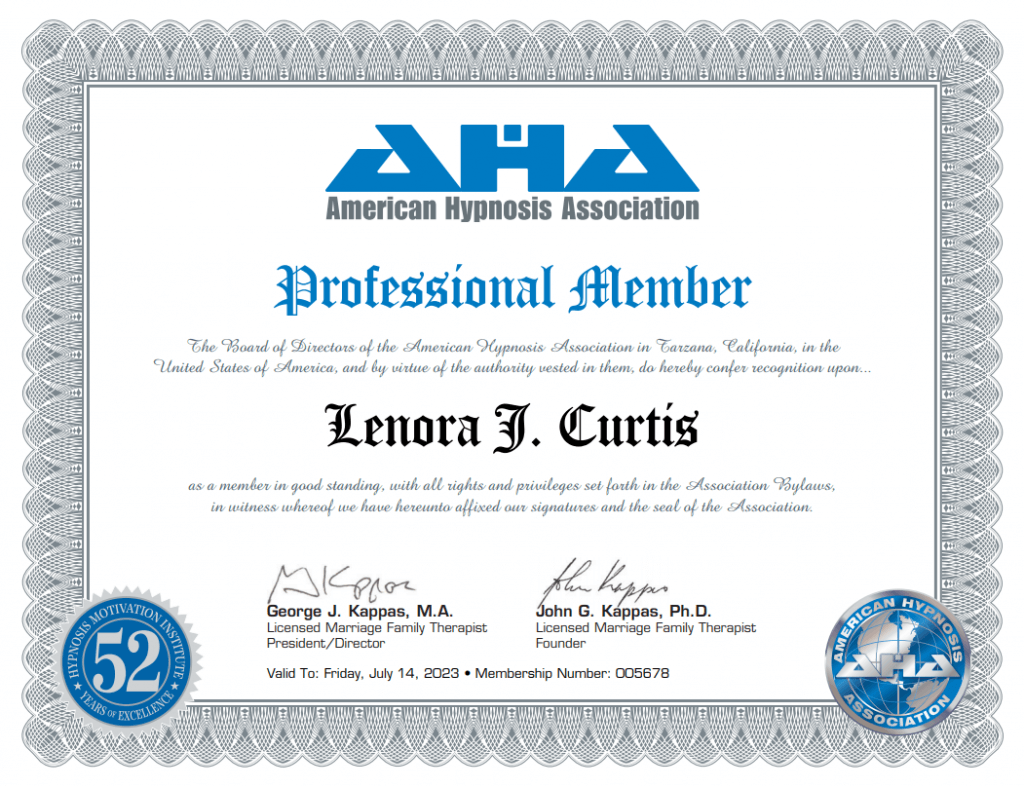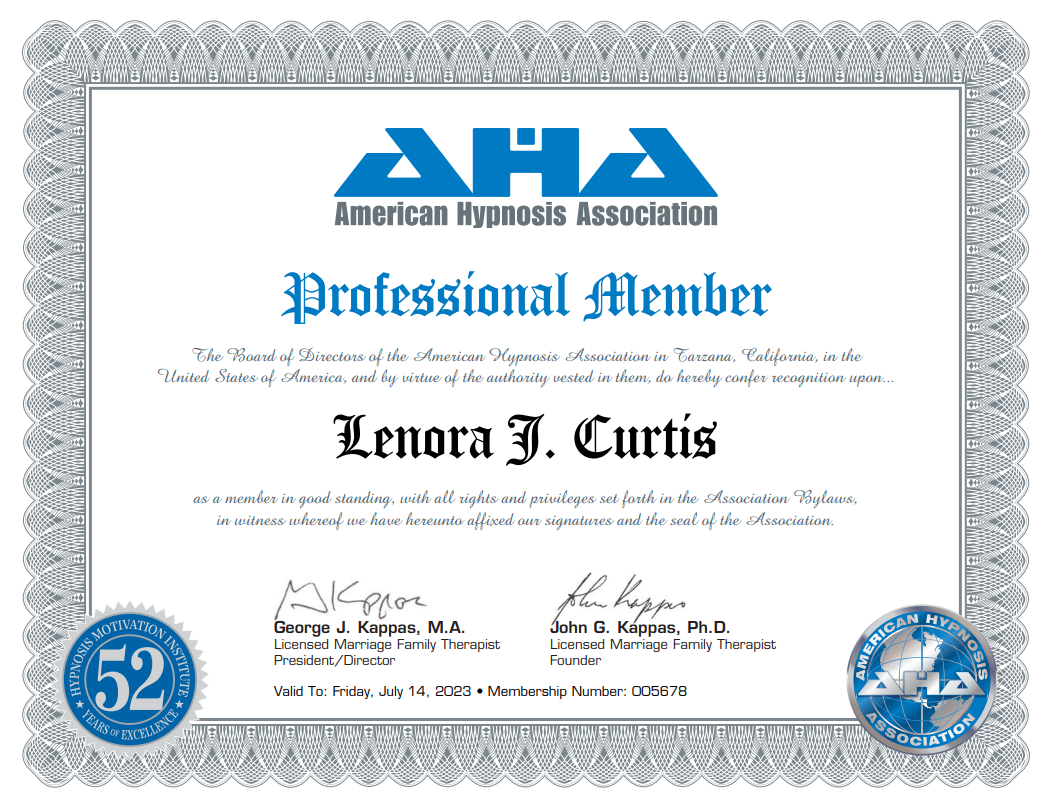 Certification:
Certified Hypnotherapist
 Hypnotherapist Union Local 472 
Certification Number: 56198800
In good standing since 2020
Diploma in Clinical Hypnotheraqpy with Honors,
Hypnosis Motivation Institute. 
August 16, 2021
Neuro-Linguistic Programming
American Hypnosis Association
July, 2021
Certified Master Hypnotist
The American Alliance of Hypnotist
Certification Number: 4057
In good standing since 2020
Certified Brain Health Coach
The  Spencer Institute
Certification Number: Q219470139
In good standing since 2019
Awards:
Directors Award
Hypnosis Motivation Institute 
August, 2021
My mission is to make a positive impact on every person I encounter.  I aim to brighten their day and help them feel as important as they were born to be.  To empower people, and to raise the vibration of the collective by raising one vibration at a time.  To accomplish this, I utilize hypnotherapy, and show others they can be happy, they can feel better and they can live their best life. 
I live and lead with H.E.A.R.T
Honesty – I live my truth and be truthful at all time, to myself and others.
Ethical – Always do what's right and you will do no harm.
Accountability – Be responsible for my conduct, live up to my promise of ethics and honesty.
Respect – Myself and others at all times – employ honesty, ethics and accountability and respect will come easily and effortlessly.
Tranquility – Is the gift I receive when I live honestly, remain ethical in all I do, hold myself accountable for my own conduct and respect myself and others.