Modern Mindful Hypnotherapy
CONFIDENTIAL
The client / hypnotherapist relationship is very important and all information is confidential. Your information will never be shared or talked about with anyone.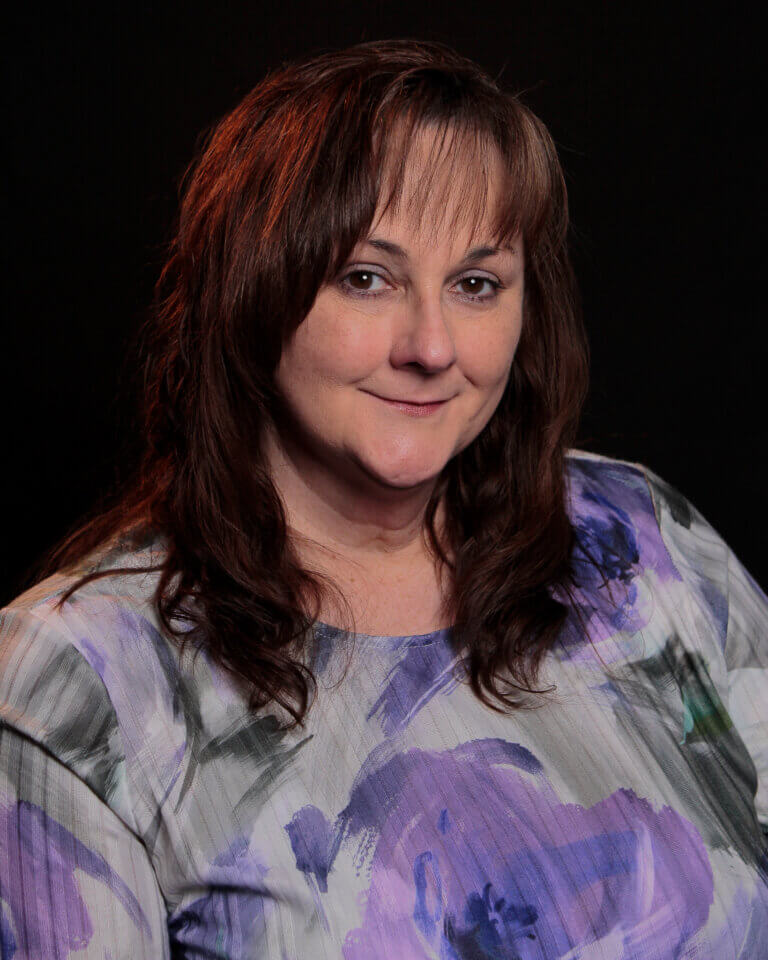 Lenora graduated at the top of her class from the Hypnosis Motivation Institute.  Her awards and accomplishments include, Honors Grad status (4.2 GPA), recipient of the Director's Award, The Academic Achievement Award (2160 hours) and The Clinical Achievement Award (recognizing top 5 graduates) Lenora has recently graduated with an associate degree in Mind-Body Psychology.  She has studied CBT, ACT, and Positive Psychology, Mind-Body Psychology, Diagnostic Systems in Psychology, Transpersonal Psychology, Depth Psychology, Existential/Humanistic Psychology and Diversity.
Lenora has also graduated from the Arizona Trauma Institute as a Trauma Life Coach.  She is also certified in Multichannel Eye Movement Therapy, an IEMT (Integral Eye Movement Therapy) Practitioner, a Trauma Informed Specialist and certified in Forward Facing Trauma Therapy. 
Additionally, she is a Professional Member of the American Hypnosis Association, the, and the American Alliance of Hypnotists and a member of the International Society of Female Professionals.
Lenora combines Hypnosis, Neuro-Linguistic Programming and Therapeutic Imagery to teach her clients how to tap into their inner resources to activate their natural ability to heal mentally, emotionally, physically, and spiritually. Using these tools and others, she guides her clients to become the master of their own thoughts and reclaim their personal power. 
Lenora Curtis has experienced first-hand the transformative power of hypnosis.  She used it to facilitate healing from a traumatic childhood, as well as manage pain from multiple surgeries. She is passionate about using hypnotherapy to help others and has made the study of hypnosis a major focus in her life.
Lenora invites you to join her on a journey of exploration into the natural healing properties of your mind, body, and spirit. Whether it is the achievement of a personal improvement goal, managing anxiety, getting over fears and phobias, or the quest for a more fulfilling life path, the therapeutic use of Hypnosis, NLP, and Guided Imagery offers a powerful combination of resources to help you comfortably and efficiently achieve your goals. Contact her today  at 410-330-5486 to begin your personal transformation.
Modern, Personal Hypnotherapy designed specifically for your needs.

Contact Me for more information or to schedule your group Past Life Regression.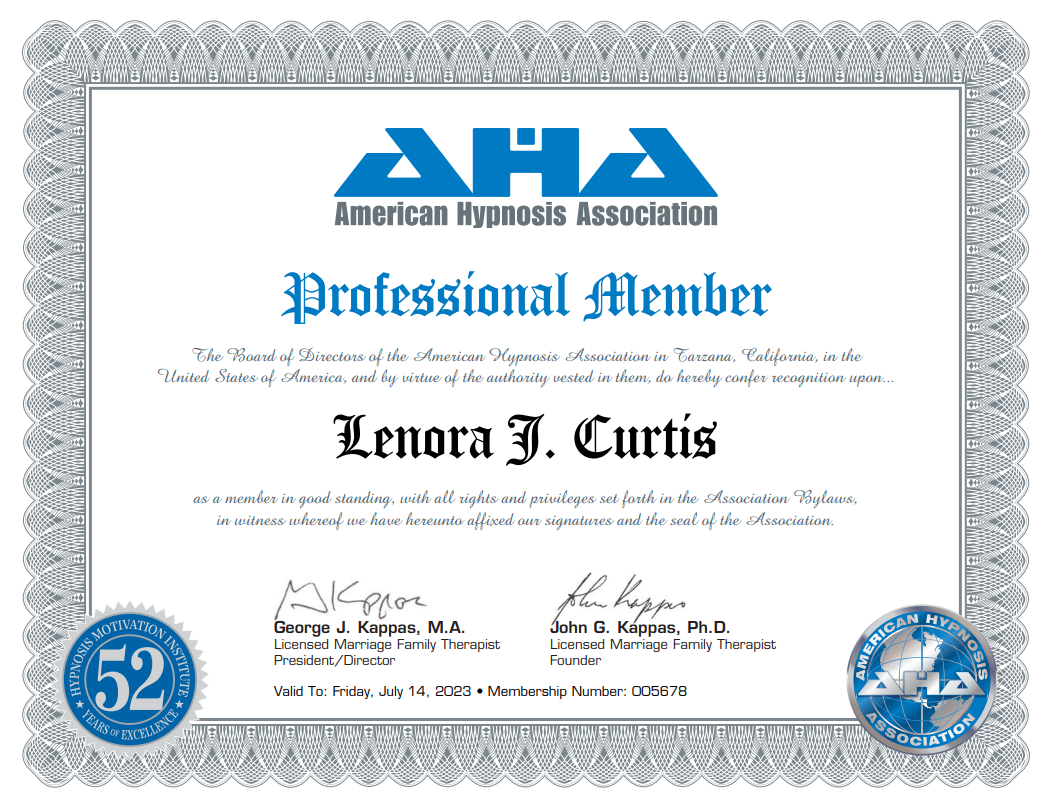 Associate of Occupational Studies
Mind – Body Psychology with Honors
Hypnosis Motivation Institute
September 16, 2022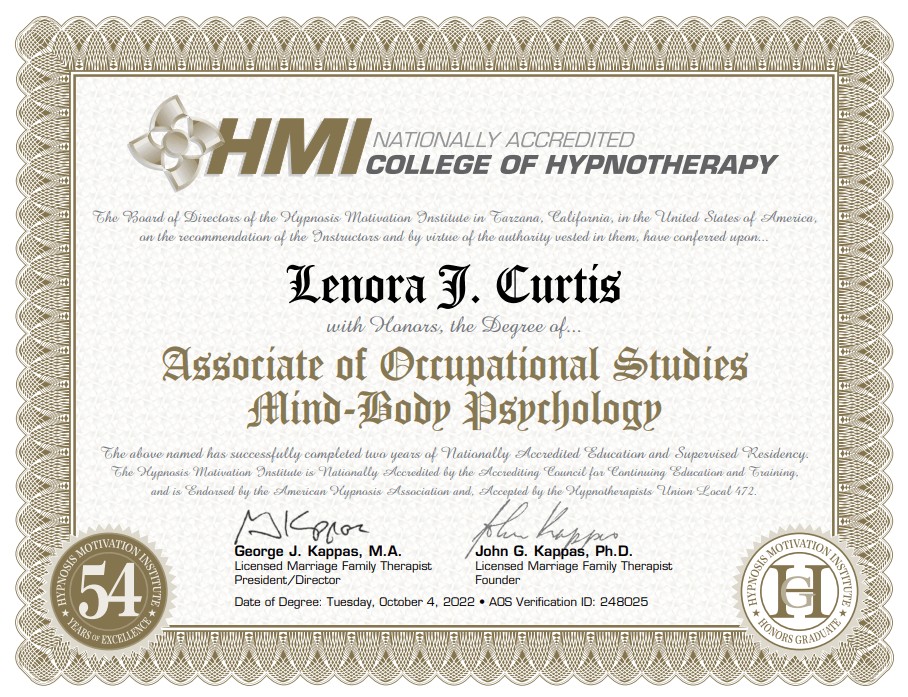 Diploma in Clinical Hypnotherapy with Honors,
Hypnosis Motivation Institute. 
August 16, 2021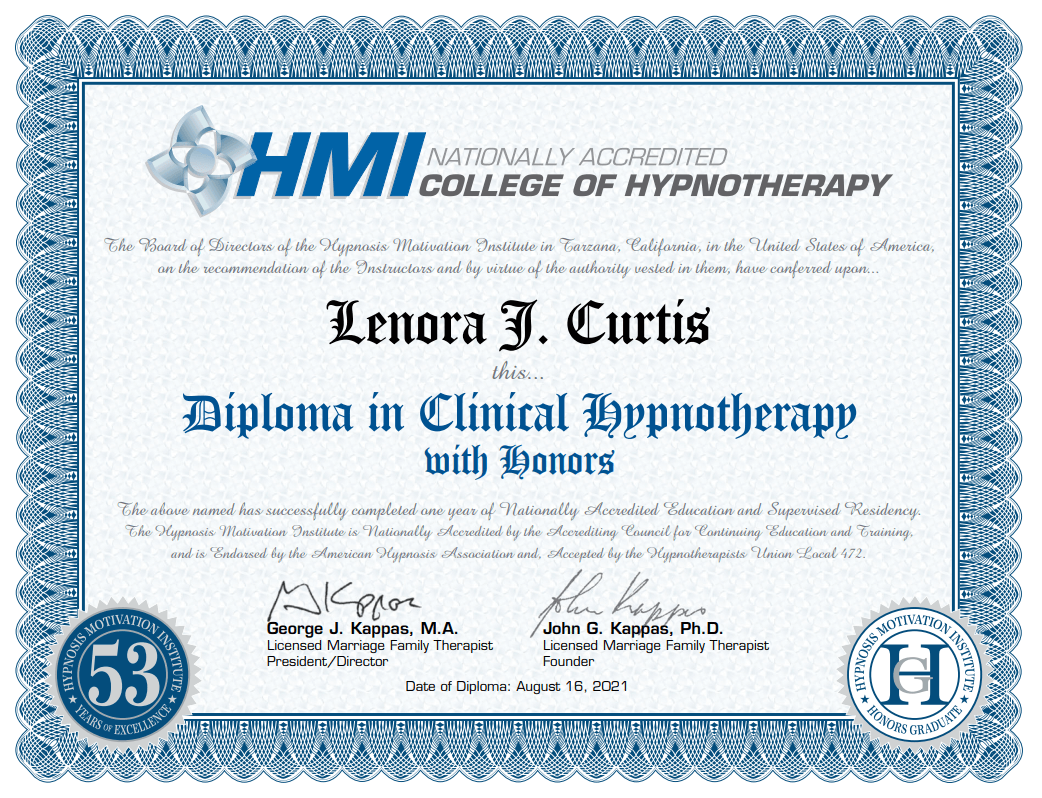 Directors Award
Hypnosis Motivation Institute
August, 2021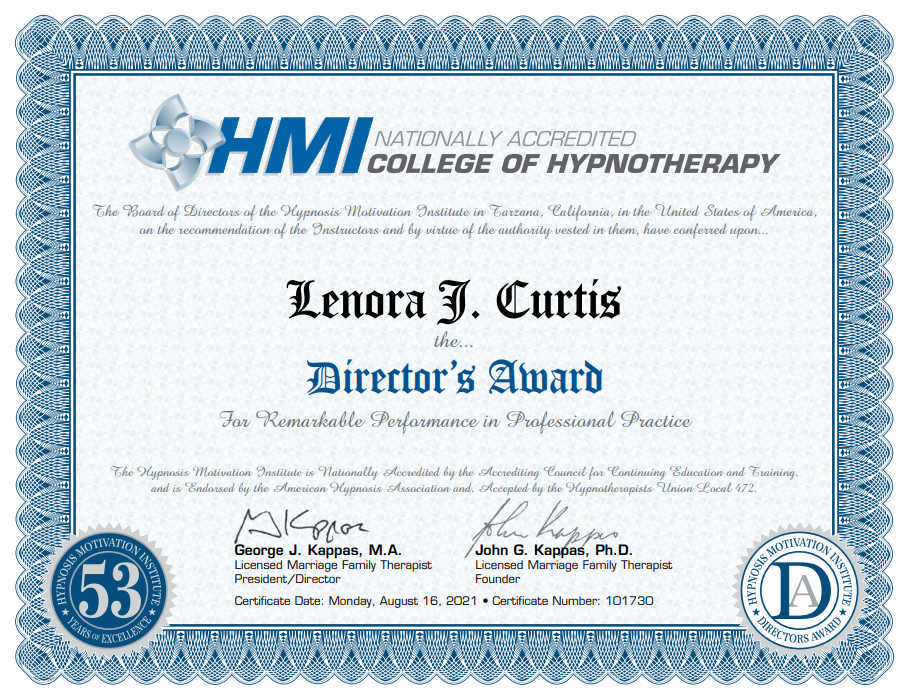 Academic Achievement Award
Hypnosis Motivation Institute
August, 2021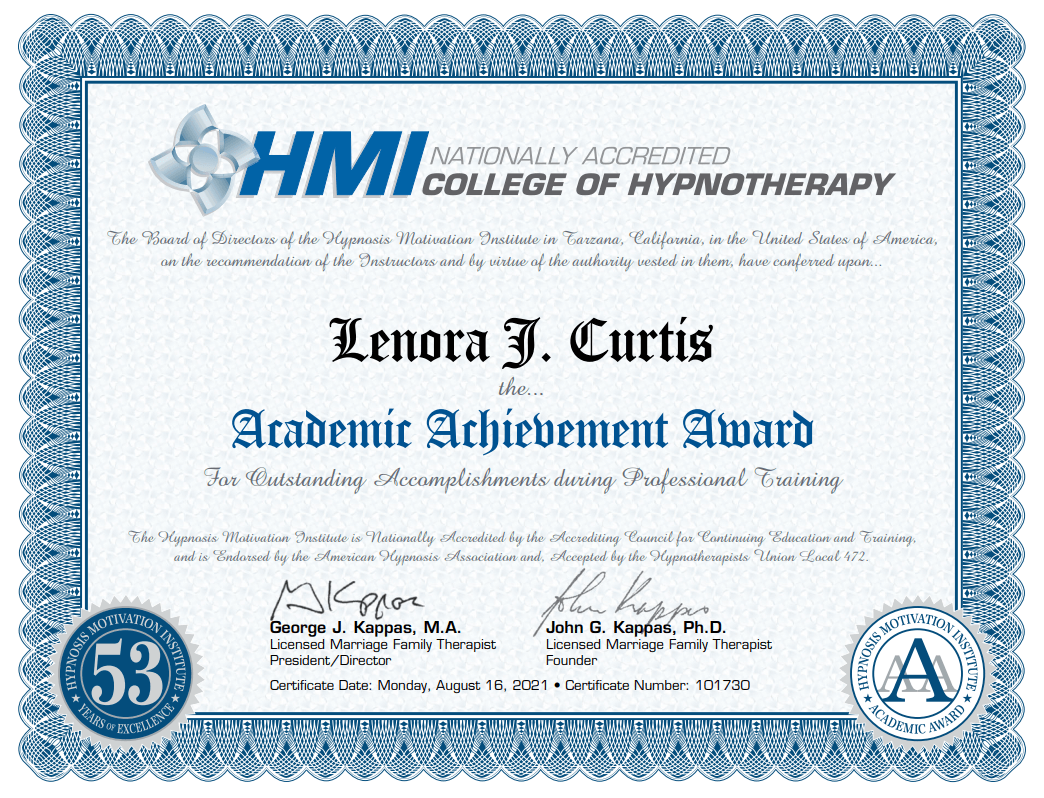 Clinical Achievement Award
Hypnosis Motivation Institute
August, 2021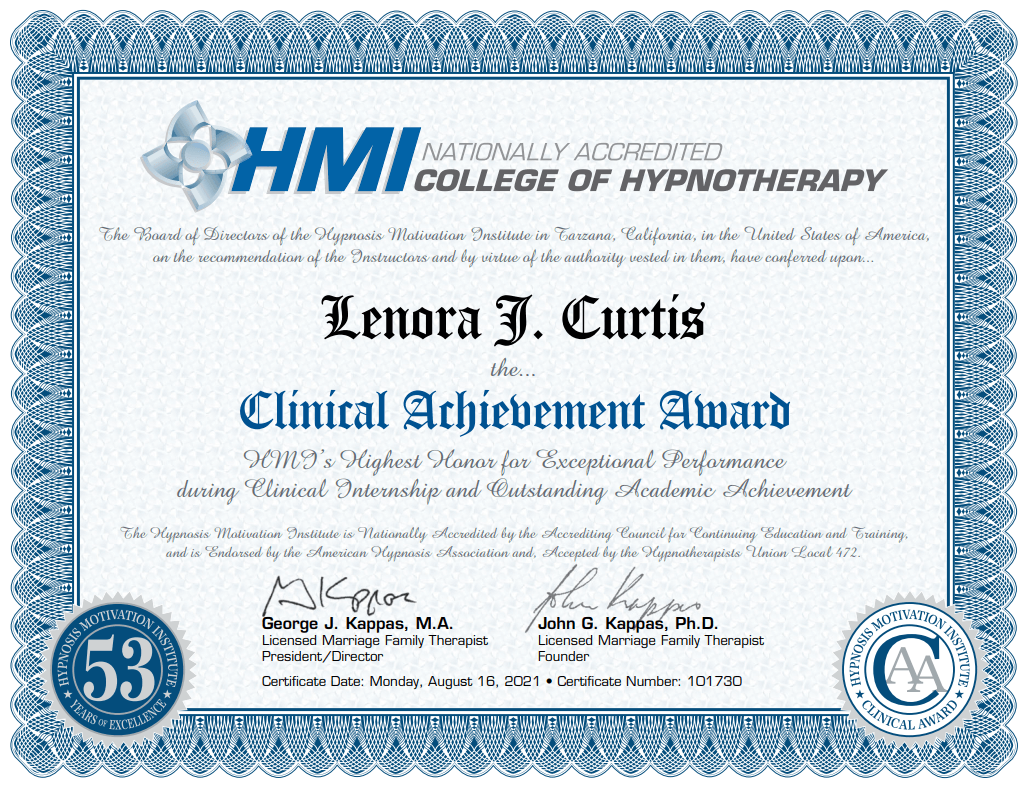 Success Story Interview with Lenora Curtis